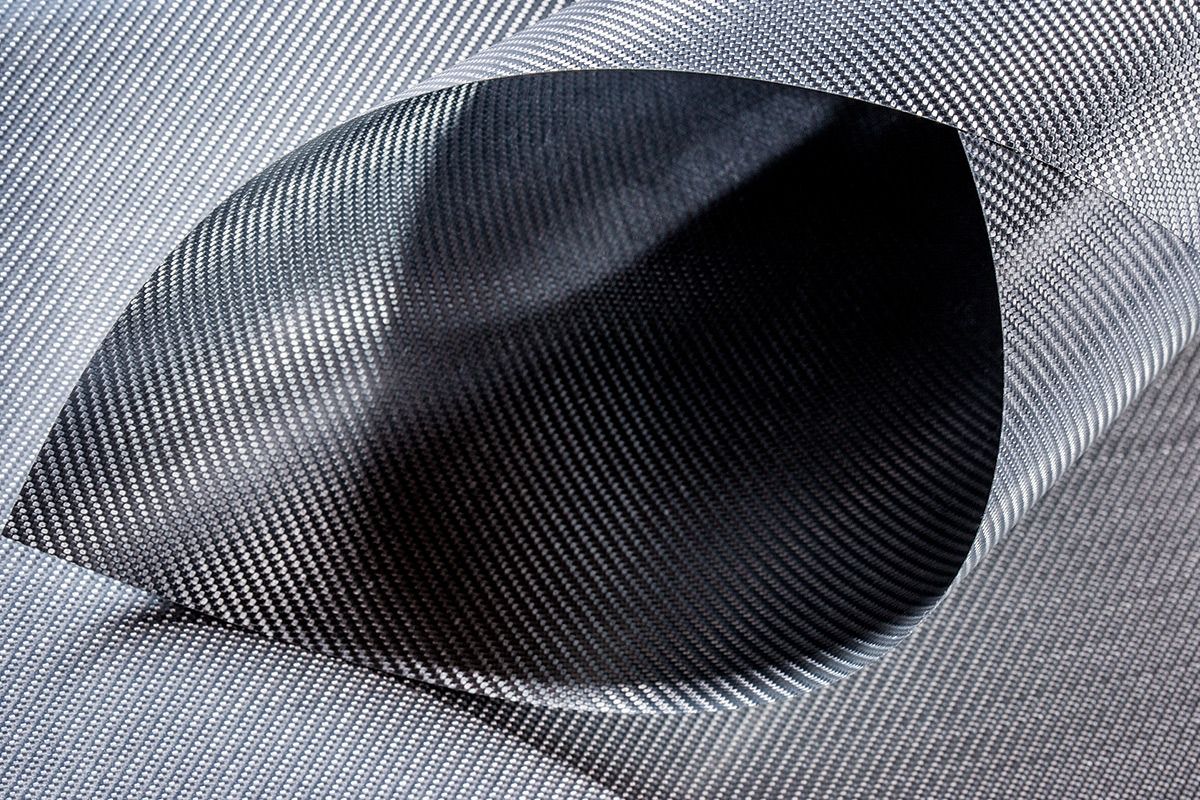 The difference of semi-finished plate material made from CFRP (carbon fiber reinforced plastic) or GFRP (glass fiber reinforced plastic) for a pureley technical use is described in regard to fiber orientation (uni- or bidirectional), used textile (twill weave, plain weave, …) layer build-up.
For technial usage prepregs – preimpregnated materials – are mostly used. Prepregs are fiber materials with reactive resin. With their numerous options of processing, they represent the ideal basis for light-weight and high-strength construction parts. Structural parts with excellent properties can be fabricated in combination with glass, carbon and aramid fibres. Application-specific properties can be customised for the relevant requirements by adding additives pigments and fillers. For higher stiffness specific prepregs with exclusively unidirectional fiber orientation will be used compared to prepregs with twill leave where filament is interwoven.
Technical CFRP or GFRP plate material is possible in a thickness range of 0,2mm – 20,0mm and a maximum size of 2200 x 900mm. Appropriate mechanical machining and processing (CNC milling) is given. Customer specific post processing (thread inserts, part assembly through adhesives, …) enables ready-for-assembly modules according to our customers designs and drawings.
CFRP tubes and profiles are costeffective, flexible and reproduceable for a wide range of applications. Depending on force transmission, tube mounting, impact and shock loads three different technologies come into consideration.
Pultrusion technology – The most cost effective type with highest tensile strength. Round rods with diameters from 1 to 30 mm,pipes with external diameters of up to 34 mm or flat bars from 3 to 50 mm in width with a thickness of up to 20 mm are possible
Prepreg wrapping technology – preimpregnated fabrig mats are wrapped around metal pins for hardening and surface treatment afterwards. This composite tube has all the structural qualities of unidirectional tubing with an outer woven fabric layer. Additionally, the carbon fabric outer layer helps minimize fraying and splintering during cutting and/or drilling operations.
Filament wound technology – Filament wound tubes have very long continuous fibers which add to the strength and stiffness of the structure. The manufacturing process allows for longer length carbon fiber tubes than standard roll wrapping process.
For large scale ultra light weight structures with a focus on maximum strength combined with minimum weight sandwich core composites offer higher strength-to-weight ratios than solid composite laminates. A sandwich panel is a composite panel that uses stiff and strong skins (face sheets) bonded to a lightweight core. Common skin materials are carbon fiber and fiberglass. Common core materials are foam, aluminum, aramid honeycomb or lighter wood.
Sandwich panels are incredibly lightweight and strong. Sandwich panels offer the stiffness and strength of a thicker plate without the extra weight. Replacing the middle with a lightweight core has minimal effect on properties. Core materials are usually 95%+ lighter than carbon fiber.